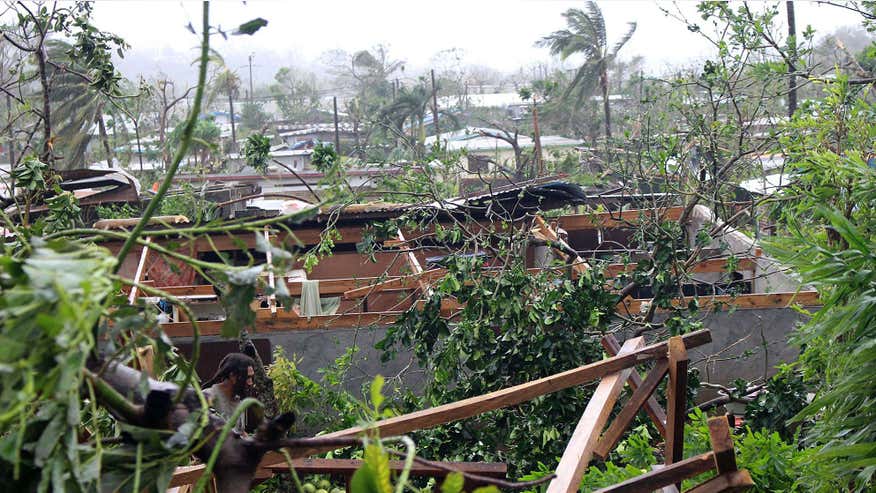 March 14, 2015: In this photo provided by non-governmental organization 350.org, debris is scattered over a building in Port Vila, Vanuatu
(AP)
Cyclone Pam ripped through the Pacific's Vanuatu archipelago leaving widespread destruction and an unconfirmed reports of dozens of deaths as the storm subsided Saturday.
The storm left many communication systems of the outer islands down and it will take time to repair before the full extent of the damage is known.
The capital's streets were littered with debris from homes, uprooted trees and power lines, Chloe Morrison, a World Vision emergency communications officer in Port Vila, said. Morrison said she has heard of entire villages being destroyed in more remote areas.
"It's still really quite dangerous outside. Most people are still hunkering down," Morrison said. "The damage is quite extensive in Port Vila but there are so many more vulnerable islands. I can't even imagine what it's like in those vulnerable communities."
Morrison said the winds peaked between midnight and 1 a.m. Saturday. Although Morrison readied her home for the storm, she said her house was hit by a tree and a tin roof from another home.
Cyclone Pam's course changed to the west putting populated areas in the direct path of the storm's 168 mph winds. The U.N. Office for thE Coordination of Humanitarian Affairs said there were unconfirmed reports of deaths in Vanuatu's northeastern islands after the cyclone moved off its expected track.
Australia was preparing to send a crisis response team to Vanuatu if needed, Australian Foreign Minister Julie Bishop said.
"There are destructive winds, rain, flooding, landslides, sea surges and very rough seas and the storm is exceedingly destructive there," she said. "We are still assessing the situation, but we stand ready to assist."
Vanuatu is located about a quarter of the way from Australia to Hawaii. It has a population of 267,000 spread over 65 islands. The nation has already warned it is suffering from global warming effects with its coastal areas being washed away forcing resettlement to higher grounds and smaller yields on crops.
'
The cyclone has already destroyed some homes and caused damage to other Pacific islands including Kiribati and the Solomon Islands.
David Gibson, acting director of the Vanuatu meteorology and geo-hazards department, said the winds could cause severe damage to the nation's buildings.
Alice Clements, a spokeswoman for relief agency UNICEF who is in Port Vila, said Friday the capital was like a ghost town as people took shelter. She said the pelting rain was blown horizontally by the wind.
Authorities in New Zealand are preparing for the storm, which is forecast to pass north of the country on Sunday and Monday.