(CNN)
A
volcano
eruption in Alaska sent ash 20,000 feet up in the air and prompted flight warnings, according to authorities.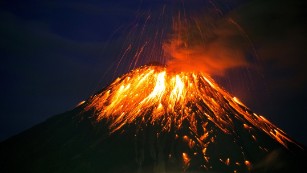 22 photos:
Recently active volcanoes
The Pavlof Volcano, located on the Aleutian Islands, began "erupting abruptly" Sunday afternoon, according to the Alaska Volcano Observatory.
A volcano alert warning remained in effect early Monday morning, and the aviation warning color code remains red, its highest level.
Seismic activity was also reported after the quake.